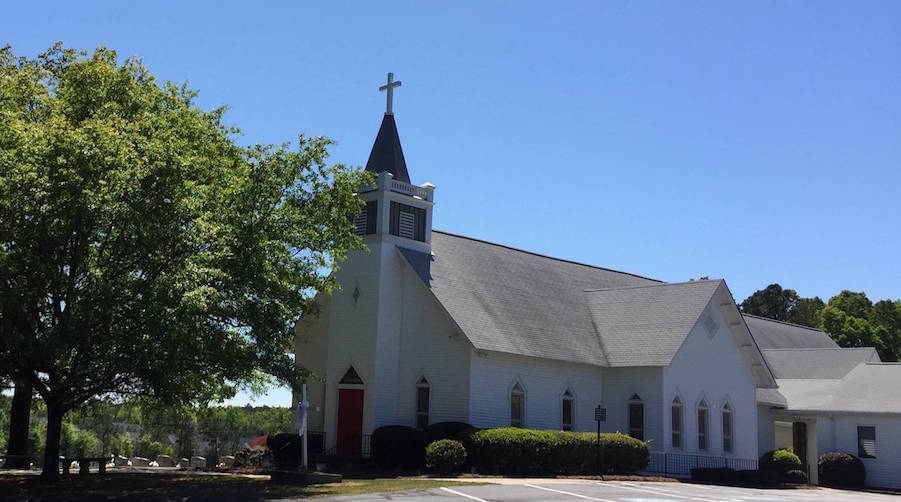 Sunday School at 9am
Worship at 10am
If you don't have a church home, come visit!
We Welcome All - Worship Together - Witness by Serving
When a person is ready to confess one's sins, God is ready to cover them with his blood.
A Message from Pastor John Derrick
In our Prayers:
Joy Bodnar (sister of Anita Kesler)
Bill Bradley
Lois Clark (Dupre Percival's mother-in-law)
Curt Deming (Eleanor's brother-in-law)
Judy Dominick (classmate of Glenn Lindler)
Katie Dunn (mother of Jeff Bradshaw)
Wilson Felker (friend of Jan Samson)
Vicky Goodwin (friend of Eleanor Bradley)
Jeff Hein (friend of Jeff Bradshaw)
Wanda Hein (friend of Jeff Bradshaw)
Gerda Hudgens (friend of Nancy and Tim Bradshaw)
Blaine Johnson (husband of Glenn Lindler's niece)
Richard Lindler (Glenn Lindler's brother)
Ola MacKendree
Mary Mack (friend of Anita Kesler)
Tricia McKinnon (Julia Ann's sister)
Ty Moore (Kaylie's grandfather)


Daisy Morris (friend of PJ)
Pat Mullins (friend of Gloria & Heyward)
Becky Rawson (PJ's sister)
Delores Richardson (Norma's sister)
Polly Sale (Jeff Bradshaw's aunt)
Georgia Sliker (niece of Tim & Nancy Bradshaw)
Sharon Smith friend of Julia Ann & PJ)
Tom Vollmer (friend of Sam Samson)
Leonard Walker (brother of Sara Smith)
Bobby Joe Wiles (cousin of Gloria & Heyward)

Presiding Bishop Elizabeth Eaton
Bishop Herman Yoos
Pastor John Derrick

In Our Armed Forces
Joy & Danny Meyers
Colt Protheroe


Make plans to attend our Shrove Tuesday Pancake Supper at 6:00 on February 25.
Make plans for our Ash Wednesday Service with Imposition of Ashes will be held at 6:00 on February 26.
Pastor John conducts a Worship Service with Holy Communion the third Thursday of each month at Generations of Irmo with Don Alcorn playing the piano and Judy Truax assisting with Communion. If you or know of someone that can't be here on Sunday mornings, please join us for this service.
Saint Valentine was a widely recognized 3rd-century Roman saint, commemorated on February 14. His saints' Day has been associated with a tradition of courtly love. He is also a patron saint of epilepsy.
Today's Noisy Offering will go to "Smile Train", a group that performs surgery for Cleft Lip and Palate.
Our Lenten Schedule will be as follows:
Ash Wednesday, Feb. 26 Service at St. John's
Cluster Services:
March 4          Mt. Olivet       Rev. Anderson
March 11       St. John's      Rev. Holland
March 18       Bethlehem    Rev. Haggerty
March 25       St. Thomas    Rev. Aurand
April 1             Open              Rev. Derrick
April 6             Healing Service at St. Michael's
Sign up to receive our weekly newsletter via email