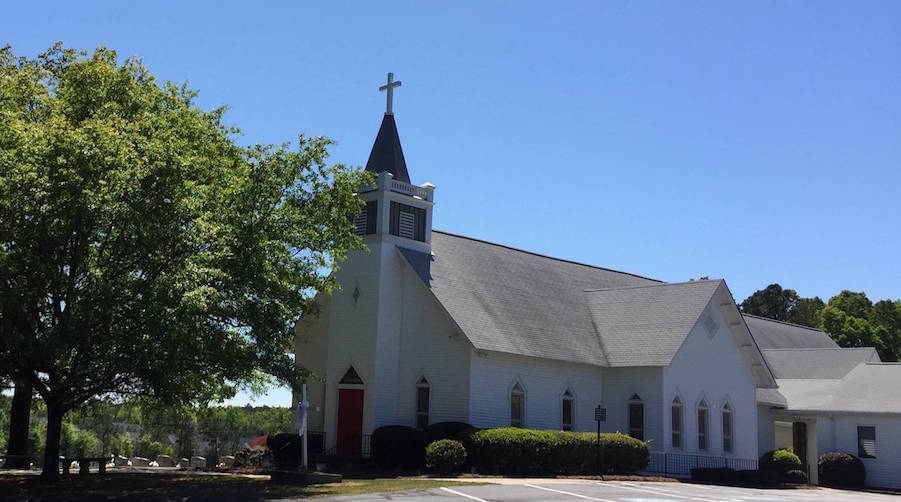 Sunday School at 9am
Worship at 10am
If you don't have a church home, come visit!
We Welcome All - Worship Together - Witness by Serving
A Message from Pastor John Derrick
In our Prayers:

Joy Bodnar (sister of Anita Kesler)
Bill Bradley
Lois Clark (Dupre Percival's mother-in-law)
Hazel Clarke (friend of Julia Ann & PJ)
Rhyan Clemenz (Julia Ann's niece)
Curt Deming (Eleanor's brother-in-law)
Judy Dominick (classmate of Glenn Lindler)
Katie Dunn (mother of Jeff Bradshaw)
Wilson Felker (friend of Jan Samson)
Bobby Eleazer
Heather, Joey, & Sawyer Frost (daughter, son-in-law, & unborn grandson of Vince and Anna Fansler)
Vicky Goodwin (friend of Eleanor Bradley)
Jeff Hein (friend of Jeff Bradshaw)
Wanda Hein (friend of Jeff Bradshaw)
Gerda Hudgens (friend of Nancy and Tim Bradshaw)
Blaine Johnson (husband of Glenn Lindler's niece)
Richard Lindler (Glenn Lindler's brother)
Ola MacKendree
Mary Mack (friend of Anita Kesler)

Tricia McKinnon (Julia Ann's sister)
Ty Moore (Kaylie's grandfather)
Daisy Morris (friend of PJ)
Pat Mullins (friend of Gloria & Heyward)
Becky Rawson (PJ's sister)
Delores Richardson (Norma's sister)
Laura Robinson
Polly Sale (Jeff Bradshaw's aunt)
Georgia Sliker (niece of Tim & Nancy Bradshaw)
Sharon Smith friend of Julia Ann & PJ)
Tom Vollmer (friend of Sam Samson)
Leonard Walker (brother of Sara Smith)
Bobby Joe Wiles (cousin of Gloria & Heyward)

Presiding Bishop Elizabeth Eaton
Bishop Herman Yoos
Pastor John Derrick

In Our Armed Forces
Joy & Danny Meyers
PALM SUNDAY or SUNDAY of the PASSION April 5, 2020
St. John's Evangelical Lutheran Church
WE WELCOME ALL, WE WORSHIP TOGETHER, WE WITNESS BY SERVING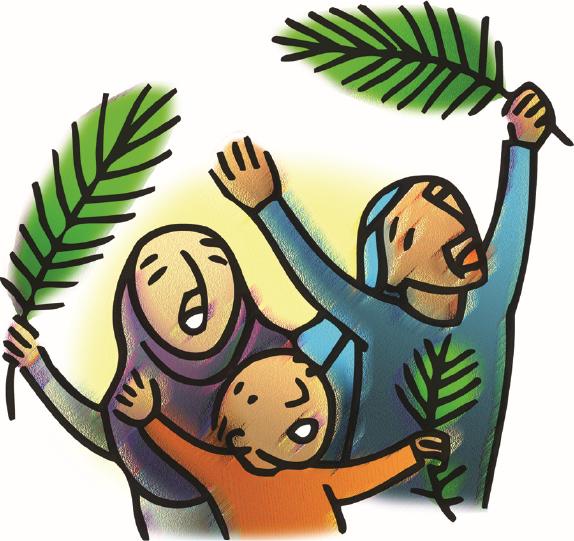 Welcome to this version of worship at St. John's Lutheran Church, a Congregation of the Evangelical Lutheran Church in America! We welcome you in the name of the One who frees us from every burden, renews our spirits, and inspires hope and joy in our living! May this worship time encourage and lift you up. We are a confessing congregation. We confess our faith by answering God's call to witness his saving grace by our thoughts and actions. We confess our sins, both known and unknown, knowing we will be forgiven by the grace of the Almighty God!

"It is because our crucified and risen Lord lives in us through faith that we can find a deeper meaning behind the practice of social distancing and sheltering in place as our response to the COVID-19 virus. It is through the cross of Jesus that we can accept these communal sacrifices that we are all engaged in right now in order to protect the needs of those most vulnerable. And it is through Jesus' self-giving love on the cross that we can embrace the untold sacrifices of first responders, doctors, nurses and medical researchers around the world working together to bring healing and hope to us in this difficult time."—March31, 2020 letter from Bishop Herman Yoos, Pastor Ginny Aebischer, and Pastor Rick Carter, Assistants to the Bishop.
This service is intended to be used with the video being sent separately. Everything you need is in this worship folder. ☩ ☩☩ ☩ Worshipers are invited to make the sign of the Cross where indicated by ☩ ☩☩ ☩. Congregational responses are printed in bold italic type.
If you want additional information about St. John's or desire to participate in the life and ministry of faith here in this worshipping community, please contact Pastor John at 803606-7589 or prjohn@stjohnsirmo.org. We invite you to worship with us each and every Sunday either by this means or at the church when normal activities resume.

INTRODUCTION
This service is different from any than you have probably participated in for Palm Sunday. During this time of social distancing, we will not be entering the sanctuary with the waving of palms, or even sharing in the Sacrament of Holy Communion. At this time, we are attempting to bring the Word of God electronically in writing and voice.

SERVICE OF THE WORD & PRAYER
☩ ☩☩ ☩ GATHERING ☩ ☩☩ ☩
The Holy Spirit calls us together as the people of God.
Today, we encounter the paradox that defines our faith: Jesus Christ is glorified king and humiliated servant. We too are full of paradox: like Peter, we fervently desire to follow Christ, but find ourselves afraid, denying God. We wave palms in celebration today as Christ comes into our midst, and we follow with trepidation as his path leads to death on the cross. Amid it all we are invited into this paradoxical promise of life through Christ's broken body and outpoured love in a meal of bread and wine. We begin this week that stands at the center of the church year, anticipating the completion of God's astounding work. This holy week will culminate in the celebration of the Three Days of Jesus' suffering, death, and resurrection.
*GREETING We gather in the name of the Father, and of the ☩ ☩☩ ☩ Son, and of the Holy Spirit. Amen.

*Confession & Forgiveness
Almighty God, to whom all hearts are open, all desires known, and from whom no secrets are hid: cleanse the thoughts of our hearts by the inspiration of your Holy Spirit, that we may perfectly love you and worthily magnify your holy name, through Jesus Christ our Lord. Amen. Let us confess our sin in the presence of God and of one another. Silence is kept for reflection. Most merciful God, we confess that we are captive to sin and cannot free ourselves. We have sinned against you in thought, word, and deed, by what we have done and by what we have left undone. We have not loved you with our whole heart; we have not loved our neighbors as ourselves. For the sake of your Son, Jesus Christ, have mercy on us. Forgive us, renew us, and lead us, so that we may delight in your will and walk in your ways, to the glory of your holy name. Amen. The presiding minister announces God's forgiveness with these or similar words. In the mercy of almighty God, Jesus Christ was given to die for us, and for his sake God forgives us all our sins. As a called and ordained minister of the church of Christ, and by his authority, I therefore declare to you the entire forgiveness of all your sins, in the name of the Father, and of the ☩ ☩☩ ☩ Son, and of the Holy Spirit. Amen.
4
*Prayer of the Day
*Let us pray. A brief silence is kept.
O God of mercy and might, in the mystery of the passion of your Son you offer your infinite life to the world. Gather us around the cross of Christ, and preserve us until the resurrection, through Jesus Christ, our Savior and Lord, who lives and reigns with you and the Holy Spirit, one God, now and forever. Amen.

*PRAYER OF THE DAY
☩ ☩☩ ☩ WORD ☩ ☩☩ ☩
God speaks to us in scripture reading, preaching, and song.

FIRST READING: Isaiah 50:4-9a
The servant of the Lord expresses absolute confidence in his final vindication, despite the fact that he has been struck and spit upon. This characteristic of the servant played an important role in the early church's understanding of the suffering, death, and resurrection of Jesus.

A reading from Isaiah, the 50th chapter.
4The Lord GOD has given me the tongue of a teacher, that I may know how to sustain the weary with a word. Morning by morning he wakens— wakens my ear to listen as those who are taught. 5The Lord GOD has opened my ear, and I was not rebellious, I did not turn backward. 6I gave my back to those who struck me, and my cheeks to those who pulled out the beard; I did not hide my face from insult and spitting.
7The Lord GOD helps me; therefore I have not been disgraced; therefore I have set my face like flint, and I know that I shall not be put to shame; 8he who vindicates me is near. Who will contend with me? Let us stand up together. Who are my adversaries? Let them confront me. 9aIt is the Lord GOD who helps me; who will declare me guilty? The word of the Lord. Thanks be to God.

PSALM: Psalm 118:1-9, 19-29
1O give thanks to the LORD, for he is good; his steadfast love endures forever! 2Let Israel say, "His steadfast love endures forever." 3Let the house of Aaron say, "His steadfast love endures forever." 4Let those who fear the LORD say, "His steadfast love endures forever." 5Out of my distress I called on the LORD; the LORD answered me and set me in a broad place. 6With the LORD on my side I do not fear. What can mortals do to me? 7The LORD is on my side to help me; I shall look in triumph on those who hate me. 8It is better to take refuge in the LORD than to put confidence in mortals. 9It is better to take refuge in the LORD than to put confidence in princes. 19Open to me the gates of righteousness, that I may enter through them and give thanks to the LORD. 20This is the gate of the LORD; the righteous shall enter through it. 21I thank you that you have answered me and have become my salvation. 22The stone that the builders rejected has become the chief cornerstone. 23This is the LORD's doing; it is marvelous in our eyes. 24This is the day that the LORD has made; let us rejoice and be glad in it. 25Save us, we beseech you, O LORD! O LORD, we beseech you, give us success! 26Blessed is the one who comes in the name of the LORD. We bless you from the house of the LORD. 27The LORD is God, 6 and he has given us light. Bind the festal procession with branches, up to the horns of the altar. 28You are my God, and I will give thanks to you; you are my God, I will extol you. 29O give thanks to the LORD, for he is good, for his steadfast love endures forever.

SECOND READING: Philippians 2:5-11
Paul uses an early Christian hymn to help us comprehend Jesus' obedient selflessness on the cross and how God has made Christ lord over all reality. The perspective of the cross becomes the way we rightly understand God, Christ, our own lives, and fellowship within the community of Christ.

A reading from Philippians the 2nd chapter.
5Let the same mind be in you that was in Christ Jesus, 6who, though he was in the form of God, did not regard equality with God as something to be exploited, 7but emptied himself, taking the form of a slave, being born in human likeness. And being found in human form, 8he humbled himself and became obedient to the point of death— even death on a cross.
9Therefore God also highly exalted him and gave him the name that is above every name, 10so that at the name of Jesus every knee should bend, in heaven and on earth and under the earth, 11and every tongue should confess that Jesus Christ is Lord, to the glory of God the Father.
The word of the Lord. Thanks be to God.

GOSPEL: Matthew 21:1-11
The holy gospel according to St. Matthew, the 21st chapter. Glory to you, O Lord.
Jesus enters Jerusalem 1When they had come near Jerusalem and had reached Bethphage, at the Mount of Olives, Jesus sent two disciples, 2saying to them, "Go into the village ahead of you, and immediately you will find a donkey tied, and a colt with her; untie them and bring them to me. 3If anyone says anything to you, just say this, 'The Lord needs them.' And he will send them immediately." 4This took place to fulfill what had been spoken through the prophet, saying, 5"Tell the daughter of Zion, Look, your king is coming to you, humble, and mounted on a donkey, and on a colt, the foal of a donkey."
6The disciples went and did as Jesus had directed them; 7they brought the donkey and the colt, and put their cloaks on them, and he sat on them. 8A very large crowd spread their cloaks on the road, and others cut branches from the trees and spread them on the road. 9The crowds that went ahead of him and that followed were shouting, "Hosanna to the Son of David! Blessed is the one who comes in the name of the Lord! Hosanna in the highest heaven!" 10When he entered Jerusalem, the whole city was in turmoil, asking, "Who is this?" 11The crowds were saying, "This is the prophet Jesus from Nazareth in Galilee."
The gospel of the Lord.
*CREED
We confess our Christian faith with the use of the Apostles' Creed.

I believe in God, the Father almighty, creator of heaven and earth. I believe in Jesus Christ, God's only Son, our Lord, who was conceived by the Holy Spirit, born of the virgin Mary, suffered under Pontius Pilate, was crucified, died, and was buried; he descended into hell.* On the third day he rose again; he ascended into heaven, he is seated at the right hand of the Father, and he will come to judge the living and the dead. I believe in the Holy Spirit, the holy catholic church, the communion of saints, the forgiveness of sins, the resurrection of the body, and the life everlasting. Amen.

*PRAYERS OF INTERCESSION
Turning our hearts to God who is gracious and merciful, we pray for the church, the world, and all who are in need.

God of mercy, awaken your church to new proclamations of your faithfulness. By your Spirit, give us bold and joyful words to speak, that we sustain the weary with the message of your redemption.
God of mercy, quiet the earth where it trembles and shakes. Protect vulnerable ecosystems, threatened habitats, and endangered species. Prosper the work of scientists, engineers, and researchers who find ways to restore creation to health and wholeness. God of mercy, drive away fear and anger that cause us to turn against one another. Give courage to leaders who seek liberation for the oppressed. Bring peace and hope to those who are in prison and those who face execution. God of mercy, send your saving help to all who suffer abuse, insult, discrimination, or contempt. Heal the wounded. Comfort the dying. Bring peace to those suffering chronic or terminal illness. Tend to all who cry out for relief especially Joy; Bill; Lois, Hazel; Rhyan, Curt; Judy; Katie; Wilson; Bobby; Vicky; Heather, Joey, and Sawyer Frost; Jeff; Wanda; Gerda; Blaine; Richard; Ola; Mary; Tricia; Ty; Daisy; Pat; Becky; Delores; Laura; Polly; Georgia; Sharon; Tom; Leonard; Bobby Joe; and all those others we name now aloud or in our hearts. Bring healing to all who are in any way affected by this pandemic. Show us the way, O Lord to peace and comfort in this time of crisis.
God of mercy, we pray for all who will prepare and lead worship in this Holy Week. In all things, show us the ways that you call us to die to self, to live for you, and to give of ourselves for the sake of others
God of mercy, when we breathe our last, you raise us to eternal life. With all your witnesses in heaven and on earth (especially), let us boldly confess the name of Jesus Christ, our resurrection and our hope.
According to your steadfast love, O God, hear these and all our prayers as we commend them to you; through Christ our Lord. Amen.
☩ ☩☩ ☩ THANKSGIVING ☩ ☩☩ ☩ CONFESSION OF SIN
We are set free to live and work in faithfulness, but we continue to turn away from god and from one another. Confessing our sin involves a continuing return to our baptism where our sinful self is drowned and dies; in the gift of forgiveness, God raises us up again and again to new life in Jesus Christ. We come to Christ's table, forgiven, freed, united and loved.
9
Blessed be the Holy Trinity, ☩ ☩☩ ☩ one God, who is the light and life of all the ages. Amen.
We sing, we wave our branches, we shout 'Hosanna.' Then, we turn away, to go back to our old ways, our old lives, our old sins. But God is in the business granting forgiveness and filling us with new live. We confess to the One who comes to fill us with grace.

PRAYER OF CONFESSION
Wearied by our poor choices, worn down by our foolish words, we struggle to be faithful followers of Jesus. Yet, it is precisely in such moments that God comes, with that love which never gives up, that grace which is always offered freely to us. So, let us come with our prayers, to the gate of God's heart, so we may enter forgiveness and life anew. Let us pray together, saying,
Unison Prayer for Forgiveness
We are so busy thinking about ourselves, God of constant love, that we cannot begin to ponder what was in Jesus' mind. We shout for joy on a day like this, smiling as we remember waving our palms, yet quickly toss them aside as we go out into the world. We harden our faces, not in discipleship, but to turn away those who come looking for help from us. Yet, because he was fully human like us, God of unfailing compassion, we too can be more like Jesus. So, as we begin our journey through Holy Week and beyond, may we choose humility over pride, weakness over strength, compassion over bully, and seek to do whatever we are called to do, without any promise of reward. We pray this in the name of our Teacher, Jesus. Amen.
Assurance of Pardon God dares us to think like Jesus, knowing that if we do, we will discover the gifts we can offer, the words of hope we can share, the grace we can use to bless those around us. God hears our prayers, listens to our hearts, fills us with forgiveness, and walks with us in these moments and in all the ones to come. Thanks be to God for such incredible mercy! Amen.

WORDS OF FORGIVENESS
Christ has come to save us! Sisters and brothers, because of Christ, our sins are forgiven. Be at peace.
Hosanna! We will give our thanks to God, who comes to bring us grace, hope and life. Hosanna in the highest. Amen!

Therefore, with our hearts lifted high, we offer you thanks and praise at all times and in all places through Jesus Christ our Lord, who taught us to pray: Our Father, who art in heaven, hallowed be thy name, thy kingdom come, thy will be done, on earth as it is in heaven. Give us this day our daily bread; and forgive us our trespasses, as we forgive those who trespass against us; and lead us not into temptation, but deliver us from evil. For thine is the kingdom, and the power, and the glory, forever and ever. Amen.

☩ ☩☩ ☩ SENDING ☩ ☩☩ ☩ God blesses us and sends us in mission to the world.
*BLESSING AND BENEDICTION

Just as we have entered Jerusalem with Jesus, we ask Jesus to be with us in all the places our parade takes us; guide our steps and encourage our hearts. This week, might God give us abundant faith to follow.
The Lord bless you and keep you. The Lord's face shine upon you with grace and mercy. The Lord look upon you with favor and give you ☩ ☩☩ ☩ peace. Amen.

*DISMISSAL
Go in peace. Share the good news. Thanks be to God.

From sundaysandseasons.com.
Copyright © 2020 Augsburg Fortress. All rights reserved
Sign up to receive our weekly newsletter via email