Interim Pastor
Rev. Mark Buchan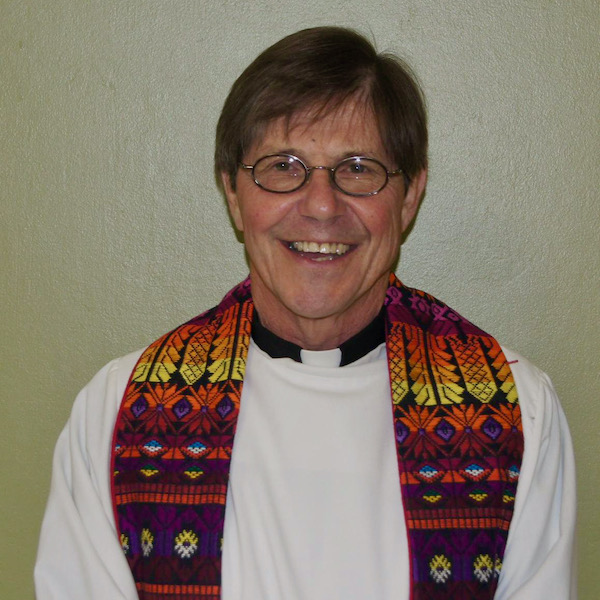 Today's flowers are dedicated to the glory of God and in honor of family birthdays in August: Nick on the 11th, LaRue on the 16th and Jimmy on the 22nd, by Jimmy and LaRue Snyder.
Our VBS mission this year benefited Sole Stepping. We will continue collecting new pairs of sneakers in elementary children's sizes until the end of August. Socks are also appreciated. The sizes especially needed by Sole Stepping are Sizes 1 through 3, including half sizes. Wide shoes are also needed.
August's Noisy Offering will benefit victims of flooding in Kentucky. Thrivent will match donations $1.00 for every $2.00 donated via their web site, up to $100,000.
The August Council meeting has been moved to next Sunday, the 21st. The executive committee (Jan, Jeff, Denise and Judy H) will meet with Pastor Mark today to work on transition plans for calling a new pastor. There are charts on the wall closest to the piano in the Fellowship Hall which document our progress in the Transition Process.
Quote of the Week
Attendance is not for the building of records but for the building of Christians.
Serving this week

| | |
| --- | --- |
| | |
| | |
| | |
| | |
| Altar Guild (green paraments) | |
| | |
| | Charles Eleazer, George Eleazer |
| | |
| | |
| | |
Serving next week

| | |
| --- | --- |
| | |
| | |
| | |
| | |
| Altar Guild (green paraments) | |
| | |
| | Charles Eleazer, George Eleazer |
| | Jan Samson and George Eleazer |
| | |
| | |
What's Happening at St. John's

| | |
| --- | --- |
| | |
| | |
| | |
| | Exec Meeting about Transition |
| ----------------------------- | ----------------------------- |
| | |
| | |
| | |
| | |
| ----------------------------- | ----------------------------- |
| | |
| | |
| | |
Debby Alcorn
Phillip Arrant (brother of Anita Kesler)
Richard Ayer (father of a friend of Glenn Lindler)
Crew Bailey (infant of friend of Brittany Danielsen)
Roger Bailey (Barbara's friend)
Joy Bodnar (sister of Anita Kesler)
Ernestine Bouknight
Gloria Caulder
Sarah Cole
Dorothy Cox (friend of Bonita Chapman)
Gina Deming (Eleanor's sister)
Patty Eleazer
Rafe Ellisor (friend of Jeff Bradshaw)
Sawyer Frost (Vince and Anna's grandson)
Lyndsay Furse (friend of Bonita)
Vicky Goodwin (friend of Eleanor Bradley)
Sally Grooms (Jeff Bradshaw's aunt)
Wanda Hein (friend of Jeff Bradshaw)
Connie Lindler (Glenn's relative)
Kathy Lindler
Zane Lindler (Glenn Lindler's brother)
Ty Moore (Kaylie's grandfather)
Risa Nolting (friend of Kathy and Glenn)
Gail Oliver (Gloria's sister)
Wade Payne (friend of Jeff Bradshaw)
Autumn Ray (Granddaughter of Jan Samson's friend)
Delores Richardson (Norma's sister)
Ed Scupp
Smigelski Family (friends of Jeff Bradshaw)
Presiding Bishop Elizabeth Eaton
Bishop Ginny Aebischer and Staff
In Our Armed Forces
Joy and Danny Meyers (US Army)
Colt Protheroe (US Navy)